Get connected with your campus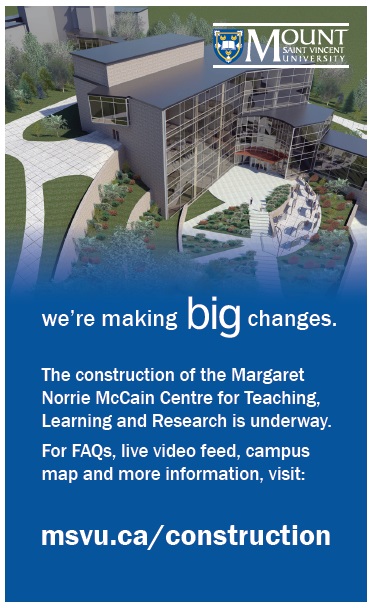 Written by Lindsay Cross
September is a time when the blank pages of a notebook rival the crispness of the evening air. It's a time that brings a 'newness' that can be incredibly motivating. Whether starting a new journey or continuing down a path to success, each of us gets a chance to revisit what it means to 'be part of something big' at the Mount. It's a time to learn about ourselves and the world around us, and an even greater opportunity to help inform others about the 'big' changes happening on campus.
One exciting change is the construction of the Margaret Norrie McCain Centre for Teaching, Learning and Research. Set to open in December 2014, the McCain Centre will offer close to 50,000 square feet of contemporary, technology-rich and eco-conscious learning space. The McCain Centre will be the only academic building on a Canadian University campus dedicated entirely to honouring women, a fitting tribute to the Mount's rich, 140-year history.
During construction, you may encounter a few 'detours' across campus. The roadway between EMF and the lower-level Rosaria parking lot is closed to vehicle traffic, and a number of pathways have been closed to ensure safety around the construction site. Download the latest Campus Map for specifics, as well as a location for emergency phones and parking. For those bringing vehicles to campus, visit msvu.ca/parking to read about campus parking, and complete your parking pass application form on myMount (login is required). It'll take about 24 hours to process your application, after which time you can stop by the Assisi security desk to pay for and pick up your pass.
Whether you're new to campus or a seasoned veteran, staying informed and engaged is an important part of student life. So whether your routine involves reading the morning paper, checking Twitter and Facebook, or visiting various websites, consider adding a few Mount-related resources to your list.
As the school year progresses, stay in touch with us and share your stories via social media using the hashtag #bepartofsomethingbig. Find inspiration in giving back to others, and be motivated by opportunities to advance your journey both on campus and within the broader community. Best wishes to Emma Robertson and the Symmetry team on a new year of storytelling, advice-giving and perspective-sharing.
Lindsay Cross is the Brand and Integrated Marketing Specialist within the Communications, Marketing and Student Recruitment Department at the Mount, and is pursuing a degree of Master of Public Relations.