Athletes: Think before you tweet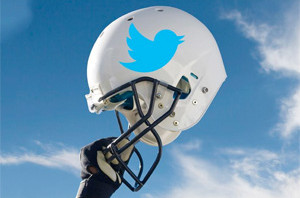 Hillary McLeod 
Play for the name on the front of the jersey and tweet for the same. In the last few years, professional athletes have been expanding their personal brand by engaging directly with fans on Twitter. Athletes can share anything with their followers, from thoughts on a game to what they had for dinner. Some have made headlines for their tweets but not always for a good reason. Despite all the benefits of engaging with your audience, sending out the first thing that comes to mind can turn out to be a field day for critics. These athletes should have thought before they tweeted.
Johnny Maziel
The Texas A&M sophomore and 2012 Heisman Trophy winner took to Twitter July 15, 2013 to express his apparent frustration with College Station, Texas. "Bullsh*t like tonight is a reason why I can't wait to leave college station…whenever it may be."
Johnny's followers were quick to question his appreciation for Texas A&M and the city that allowed him to pursue his promising career in football. When considering his history of bar fights, fake IDs and his newest scandal, the Aggies probably can't wait for Johnny Football to leave either! Oh – wait a second. It was quickly revealed that the tweet was referring to a parking ticket the quarterback received. If your message isn't conveyed in this short space, be prepared to feel the wrath of the twittersphere. #ThinkBeforeYouTweet
Voula Papachristou
In the summer of 2012, the Greek triple jumper was banned from the London Olympics after she posted a racist joke on Twitter: "With so many Africans in Greece…At least the West Nile mosquitoes will eat homemade food!!!"
As an athlete from one of over 200 countries in the world's foremost sporting competition, the Greek Olympic Committee said Papachristou's statement had been 'contrary to the values and ideas of the Olympic movement'.
Papachristou later made a public apology: "I would like to express my heartfelt apologies for the unfortunate and tasteless joke I published on my personal Twitter account… my dream is connected to the Olympic Games and I could not possibly participate if I did not respect their values." Four years of training, one tweet and one big regret.
Lolo Jones
Another Olympic athlete made headlines during the London summer games when Lolo Jones, USA hurdler, tweeted on July, 28, "USA Men's Archery lost the gold medal to Italy but that's okay, we are Americans… When's da Gun shooting competition?"
Only eight days before, 12 people were killed at the midnight premiere of The Dark Knight Rises in Aurora, Colorado. After hundreds of the hurdler's followers expressed that her words were insensitive, the Olympian had this to say: "sorry u guys only think of violence but I think of all the hunting I do w southerners in da south. Its impressive." Timing is everything. While her response was equally insensitive, this is an example of how limiting 140 characters can be. 
Chad Ochocinco
When looking for a great example of athletes using Twitter, look at Chad Ochocinco's Twitter history and do the complete opposite. The former Cincinnati Bengals wide receiver has probably topped every list of athletes' poor use of the popular social media platform.
November 30, 2010, Ochocinco took to Twitter to share his thoughts on some of the new rule changes in the National Football League. These changes included the definition of a "defenseless receiver" (receivers cannot be hit in the head or neck area by an opponent) and calling a play dead once a ball carrier's helmet has be knocked off. Add the amount of attention paid to flagrant hits and we get this tweet: "OCNNBreakingNews due to the many rule changes there has also been a name change, NFL no longer, NFFL = National Flag Football League."
While it may be considered one of the more humourous mis-tweets from professional athletes, Ochocinco quickly back-tracked with a commonly heard excuse: "Someone hacked my account talking about the NFL and it's rules, man the hackers these days are good, geesh". He later followed it with a tweet to the NFL commissioner, Roger Goodell, "@nflcommish Dad my account was hacked for a matter of 5 minutes while I was cooking, just giving you a heads up, u raised me better than that." and Chad didn't stop there.
In adapting to their players' presence on social media, the NFL (as well as many other leagues) made a "no social media during games" rule. But what if Ochocinco takes a bad hit and wants to tell everyone about how angry he is? Goodbye rulebook, hello Twitter: "Man im sick of getting hit like that, it's the F***** preseason F***! 1day im gone jump up and start throwing hay makers, #Tylenolplease."
The NFL fined Ochocinco $25,000 for violating their rules and he had this as a response: "Dear NFL I apologize for tweeting during the game but that was 2 months of my Bugatti payments you just took from me, I won't do it again." Glad he learned his lesson.
Despite all these athletes who endure the risk of damaging their image, Twitter has become a space where they can engage with their fans and even their critics. For those who think the risk will be lowered by handing over their verified account to their personal brand team, well, you may just end up being as un-follow worthy as Buster Posey.
---