Standing up and Sleeping Out for Change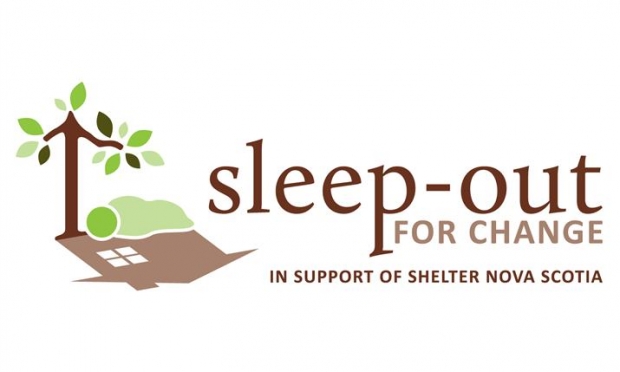 Lindsay Cross
I remember 2006 fondly. I was a small-town aspiring communications professional, thrilled at the idea of taking on the big city. I signed my first apartment lease, a 400-square foot, blue-carpeted bachelor pad in the heart of downtown Halifax. It was anything but a dream, but it was mine. The pride of having a place to call my own was unmatched. Everyone deserves that feeling.
And while the vibrant backdrop of Spring Garden Road was a dream for people-watching, I admittedly had difficulty when it came to making eye contact with people who asked for change. People who were experiencing homelessness. People who were just that – people. Why was I so uncomfortable, anxious, intimidated? I'd never spoken directly to someone without a home – where did I learn to consider them 'others'?
An uncomfortable assignment
In 2009, I was an event producer with a local event management firm. There, I was assigned to travel to Calgary and observe Project Homeless Connect. My task was to observe their program, logistics, materials, scheduling, volunteer roles and setup. From there, I'd be working with the team to create a similar event in Halifax, known here as Halifax Connects.
In Calgary, I watched hundreds of people experiencing homelessness standing in line for coffee, lunch, free clothing and personal care items. I talked to volunteers, wrote down the number of tables and backdrops required for each area. Stanchions, signage, easels – check.
But one booth caught my eye, an extremely busy, make shift hair salon. Likely the trickiest to replicate, I decided to settle in and observe. As I was counting chairs and plugs, I focused in on an aged man at a distance. Hair, long and matted; skin, weathered and experienced; eyes that looked downward and sad. I remember thinking "It's so nice that he's able to get a haircut here – looks like it's been a while."
My eyes wandered throughout the venue, where men, women and children walked about as though on normal Sunday business. A short while later, my attention went back to the hair cutting area. I was caught off guard when I noticed the chair was empty. Beside it, though, a man stood tall, proud, running his hands through his freshly-cut hair. A smile was revealed where a beard once grew. I realized it was the same man.
I remember the moment I realized I was crying. I swiftly left the venue to sit outside in the fall air, embarrassed and ashamed. His pride had become something in myself. A service I so often took for granted was transformational for those who have so little. In that moment, my pre-determined and unqualified understanding of homelessness was destroyed. That day, I was forced to confront 'otherness', and I realized that everyone deserves to be treated with dignity and respect.
Standing up for Change
Since that day, I've been unable to look away. There are close to 2,000 men, women and youth facing the complexities associated with homelessness in the Halifax Regional Municipality. For these individuals, a shelter often remains their first and only option for avoiding a night of "sleeping rough", couch surfing with friends or family, sleeping in a vehicle, on an abandoned property or outside.
Thankfully, organizations like Shelter Nova Scotia are working to help transition individuals in crisis back to the community. Operating five facilities in HRM, Shelter Nova Scotia provides over 44,000 bed nights per year to people who have nowhere to turn. In addition to a safe place to stay, SNS provides client support workers along with partnerships with mental health and addiction services to help clients achieve sustainable and independent living.
Sleeping Out for Change
On October 5, close to 40 business, community and political leaders (including Mayor Mike Savage) will leave the comforts of home to brave the elements for the one-night Sleep Out for Change event. Modelled after successful initiatives around the world, the event will surround the Halifax Regional Police headquarters on Gottingen Street. With a sleeping bag and a slab of cardboard in tow, participants will raise funds and awareness for homelessness in Halifax.
You can learn more at www.shelternovascotia.com/sleepout and follow me @LindsayLaFosse as I live-tweet on Saturday night from the lawn of the Halifax Regional Police headquarters.
What you can do to help
The next time you're asked for change at a storefront, challenge yourself to meet the person's eyes and smile – even if the answer is 'sorry/no'. We are all deserving of being treated with dignity and respect. Educate yourself about homelessness in HRM, consider reading the 2012 Homelessness and Housing Report, or volunteer with an organization who helps those in need.
Follow @ShelterNS on Twitter and Facebook, and be a change agent in the community. You can also join members of the Mount community as we collect personal care items for Halifax Connects on October 20.  Drop off any of the following new/unused items to the Student Union Info Desk:
Disposable Razors for shaving
Deodorant (men's and women's)
Toothbrushes, toothpaste
Children's books, crayons and markers
________________________________________
Lindsay Cross is the Brand & Integrated Marketing Specialist within the Mount's Public Affairs Office, and a part-time student in the Masters of Public Relations program.