Tracy Kenney: This ABC isn't as easy as 1,2,3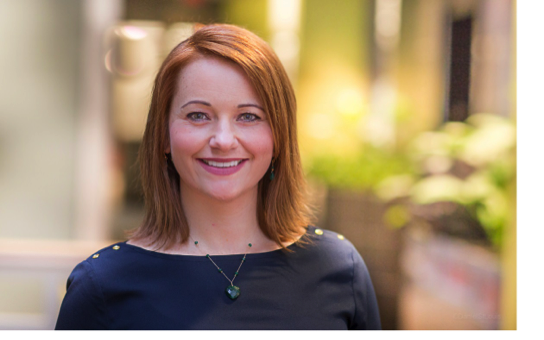 Amanda Martin
Tracy Kenney, BPR '00, ABC, chalks up her decision to apply to Mount Saint Vincent University (the Mount) in 1997 as,  "a shot in the dark. I didn't really understand public relations or what it was all about. I knew I needed a professional degree that would get me a job."
After graduating from her first degree, a BA from Memorial University of Newfoundland, Kenney experienced difficulty finding a job—a story that many new grads are all too familiar with. Admittedly, she is someone who never sets specific long-term plans. She enjoys the element of surprise and embraces the unknown. She says, "someone once told me 'always take on opportunities that scare you.' "
Born and raised on the colourful eastern coast of Canada, in St. John's, N.L., Kenney has an affinity for her home, but upon being accepted into the BPR co-operative (co-op) program at the Mount she followed her gut and made the move to Halifax. She says, "I applied, I got in and I fell in love with it. It was everything I didn't know I needed."
Currently, Kenney holds the position of manager of corporate communications with Atlantic Lottery. She says, "My strongest attributes are my organizational skills, and my ability to problem-solve and fix things." In June, she and a colleague accepted an International Association of Business Communicators (IABC) Gold Quill Award in New York for a video lottery replacement communications strategy. Their work included the approach to communications from the request for proposal process, to selecting vendors, right through to placing terminals in the market. In response to their submission, the IABC Gold Quill Award judging panel wrote, "Another great job. When you start with a great comprehensive strategy, and have already done all the right stuff, it's easy to score well."
Kenney suggests that the BPR program at the Mount was an aid in the growth of her focused thinking. That, combined with the co-op work-terms she completed during her degree, helped form the PR professional she is today.
Kenney is the only person in Moncton, N.B., who is an Accredited Business Communicator (ABC). These three letters are not easily mastered at a professional level. To obtain these credentials, candidates must have an internationally recognized skillset, and demonstrate true understanding in their chosen field.
Recalling her time at the Mount, Kenney spoke of a particular course she enjoyed—audiovisual communications. She says, "It was fun because it was hands on and you got to make videos. I remember having to make a storyboard with photos.  It taught me a lot, but it didn't seem like work. I got my friends to act out a coffee date and I did it all on them." The PR program incorporates hands on learning that Kenney said strongly prepared her for the job force upon graduating.
Her love for surprise in her personal life appears like an approach to step-away from the corporate communications. It's her job to forecast what's to come, plan and be prepared for different outcomes. Outside of the office, Kenney finds time for stress relief. She says, "I run and I also do yoga a couple times a week. They're both great at helping me reduce stress, and physically, I feel better." This routine helps her maintain a life balance.
Since Kenney finished her studies in the millennium, she has directed five communications professionals who have earned IABC Awards. She loves what she does, saying, "I feel fulfilled by it. And I enjoy coming to work everyday. I think my life choices have led me on the right path."
Kenney isn't sure what her future holds, but she did make a point to say, "as long as I'm in a job, and feeling challenged, and feeling rewarded, then that's good enough for me."