#RakNominations: The new change in the worldwide social media trend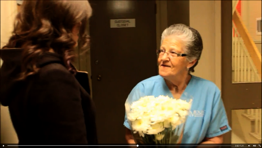 Alyssa Roy
MSVU students have seen the videos on their Facebook newsfeeds. Video after video of students gulping down beer and alcoholic concoctions without apparent reason, and nominating two other friends to follow suit.
While many nominees are taking part in the #NekNomination beer-chugging trend, which began in Australia, other Facebook users are left thinking: "Why?"
Brent Lindeque, a man from South Africa, released a counter video on January 31st, showing his actions to try and make a change in the meaning of the alarming trend. He took his NekNomination and made a significant change to a poor man on the street by giving him a sandwich, chocolate bar and pop.
By Feb. 3, MSVU students began spreading the positive message and changing the meaning of the trend. The term RakNomination (Random Act of Kindness) became increasingly popular and has spread across Canada.
RakNominations serve to spread a positive message to others on and outside of the Facebook world. The videos that are circulating show viewers that being proactive and kind can be celebrated and valued more than beer-chugging. I posted a video of myself showing my appreciation for a custodian who works at the Mount by giving her a bouquet of flowers as a thank you. I have personally received overwhelming response and outreach since my post. As I say in the video, it feels "better than chugging a beer."
MSVU students who must complete co-op and practicum work terms, such as myself, have been advised by professors and co-op office staff to monitor their social media pages. Facebook, Twitter and LinkedIn are used by employers to evaluate their potential employees. By posting videos of binge-drinking on their profiles, the content becomes available to more than just that user's selected "friends." The video then exists on the internet and has the poster's name attached to it.
"I saw you down a beer in that bathroom and almost throw up" is not something anyone wants to hear in an interview for a job they desperately want. "I saw the kind act you did for someone else and how you communicated a positive message. I admire that and I want you on our team" is more like it.
Some Facebook users do not know how to be part of this big trend but there are many small ways to make a difference.
What to do:
Make a video showing a Random Act of Kindness. MSVU students have begun by leaving 5 dollar bills on vending machines, writing kind notes on dorm room doors, making a trip to the IWK, thanking a cafeteria staff member for their hard work, and much more. The more RakNominations that spread, the faster the NekNominations will be wiped out.
MSVU students can join the "MSVU RakNomination" Facebook page I have created to see and share videos. This page encourages others to nominate themselves and help change a worldwide trend. By giving the trend a new meaning, it will evolve and impact attitudes surrounding the binge drinking and social media culture.
What will you choose to do with your nomination?