Speaking for the Canadian Forces: Military PR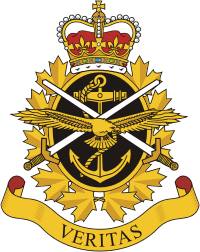 When one thinks of the military, often rolling tanks, screaming fighter jets, ships plowing through rough seas and of course the disciplined Canadian military members come to mind. The members of our military are trained to be decisive, fast acting and prepared to take on any situation that comes their way through the precise application of force.
How does this Canadian institution, with roots older than the country itself, handle modern methods of mass communication and desire for openness in the media? The answer is public relations.
The military has long recognized the modern environment of engaging the press versus engaging in propaganda. The public affairs branch has specially trained members that act as the PR officers in the military, much like any large organization's communications staff. The Department of National Defence employs both military and civilian members in these roles. In fact, Mount Saint Vincent University students find work with the military in this function. However, those who walk through the doors of a recruiting centre and join the Canadian Forces still generally fill the PR positions.
Although this is not a combat position in the military like an infantry soldier, all members of the military are trained to be able to fight, to be part of a team and to be a leader from the beginning. Therefore, those wanting to aid in having the military's message be better understood by their public need to complete basic training with their fellow military members. Having a university degree in public relations, communications or similar fields, opens the possibility of beginning their career in the military as an officer, then receiving the training and responsibilities that go with the rank.
Public affairs officers are trained to assist the military's communication at home and abroad. As a result, there are many opportunities to  see different parts of Canada and the world during their career.
Successful candidates will be trained in areas such as strategic communications, new media, stakeholder relations, and crisis communication management during courses with the military. At Mount Saint Vincent University  those courses would not be out of place in a PR student's academic calendars. Instead, the contexts in which the situations and consequences are set differ.
At the Mount there are a number of students who serve in the Reserves and some who work for the military as civilians; we even have a professor who worked in this exact challenging field. The second part of this PROfile, speaks with Professor Tim Dunne, a retired army major, public affairs officer and faculty member at Mount Saint Vincent University.
Gregory Cutten
(MSVU PR 2016 – Second Lieutenant, First Battalion, The Nova Scotia Highlanders)