Saying "I do" to wedding planning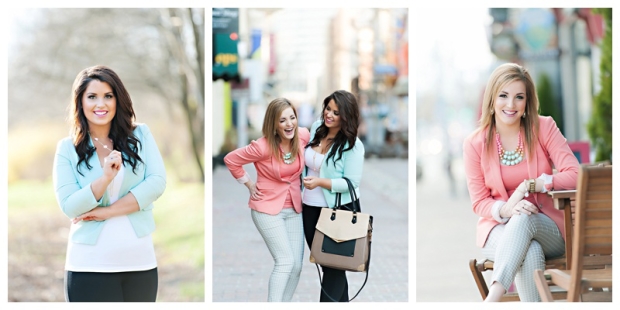 Jessica Meldrum
In the fall of 2011, Katelyn Hipson BPR'11 and Lauren Martin BPR'11, co-founded Elegant Productions, a now well-established wedding planning company based out of Halifax, NS.
Hipson and Martin worked together on their final co-op term at Mount Saint Vincent University, as event promoters for a national fitness brand. As they travelled together throughout the Atlantic Provinces they discussed starting a wedding planning business.
Following graduation, Hipson worked as the Marketing and Communications Manager for the Royal Nova Scotia Yacht Squadron and Martin became the Events and Membership Manager for the Mic Mac Amateur Aquatic Club. Hipson and Martin revisited the idea of opening a wedding planning company and decided that there was a need for this service within the Halifax region. They both became certified wedding planners from the Wedding Planners Institute of Canada (WPIC) in 2011 before launching their business.
Hipson explained, "We figured we could work full-time and do this for fun on the side." However both Hipson and Martin knew that in order to grow their business, they needed to get their name out in the "bridal world". The two used their PR skills to connect on social media, contact local and national media and set up shop at their first bridal show in Halifax.
In their first year they had anticipated booking a few weddings, but to their surprise, "Lauren booked two brides in one day from one show," said Hipson. During their training at WPIC Hipson said they learned, "If we booked five weddings in our first year our company was on our way to success." Hipson and Martin did not book five weddings in their first year – they booked 18. With the sudden expansion of their business they faced a crossroad. While they loved their full-time jobs they knew wedding planning was their passion.
For their first summer wedding season, Hipson and Martin continued to work full-time during the week while planning weddings after work and executing their events on the weekends. One year after the launch of their business, the two quit their jobs and made the leap into full-time wedding planning. Elegant Productions grew, providing their services to 53 couples in their second year.
In order to accommodate such a large number of weddings in such a short wedding season Hipson explained, "Sometimes we've hosted two or three weddings, back-to-back, on the same day… We've learned from our experiences and it's helped us get to where we are today." Each wedding is a new challenge, with plans that have included guiding a groom and his nephew on a white horse through the Halifax waterfront, while the wedding party danced in front.
Hipson and Martin have encountered their fair share of stress in the world of weddings. "It's a big day and emotions can run high," says Martin. The two have managed well during high-stress situations creating quick strategies and moving forward because they have different, yet complimentary personalities. Making two heads better than one when it comes to effectively handling difficult event-related situations.
Hipson described Martin as, "very caring and understanding," because she is a twin and has grown up sharing everything. Katelyn describes herself as someone who suffers from "only child syndrome," leaving her with a different, yet incredible skill set including confidence in the work they create.
Still only in their early twenties, Hipson and Martin have created and established a reputable wedding planning company in Halifax. With the inspiration from their entrepreneurial fathers and the knowledge their education at the Mount provided, they were able to merge corporate public relations with creativity.
Photo credit: Elegant Productions