New year, new you: Goals to set to help you land your dream PR job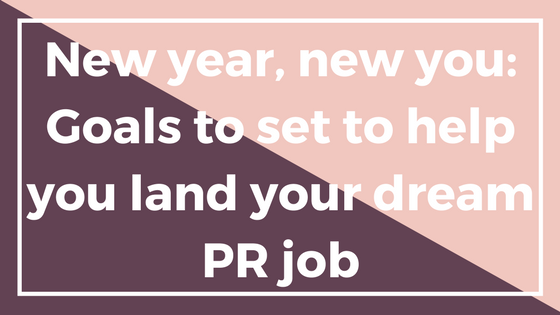 Karlea Lewis
As far as I'm concerned, the whole month of January is meant for planning and setting goals for the new year. It's the perfect time to reflect and re-evaluate before setting new goals to crush. While you're thinking about how you can become your best self, don't forget to set goals for your career as well.
Here are six ideas for realistic goals you can set to help you get ahead in your career in public relations.
Update your LinkedIn profile and your résumé regularly
You should make it a habit to update your LinkedIn profile and résumé as soon as you gain new experiences. You want to make sure you remember all of the important details about your latest co-op term or volunteer gig.
Volunteer your time for a good cause
Speaking of volunteering, taking the time to volunteer is a great way to help a good cause while developing skills and making connections. Finding time to volunteer while you're in school can be tough, but volunteering for an event is the perfect way to get relevant experience with a shorter time commitment.
Get involved at school
Extracurricular activities are a great way to develop skills you may not have gotten a chance to work on at your last co-op. Even if your extracurricular activity isn't PR related you can offer to lend your skills to help plan their next event or to manage the club's social media pages.
Learn more outside the classroom
In the PR world it's important to stay up-to-date on current affairs and industry trends. Short on time? Sign up for daily e-newsletters such as The New York Times Daily Briefing, Globe Politics and PR Daily News Feed. You can also download informative podcasts to listen to during your daily commute such as Young PR Pros or Grammar Girl Quick and Dirty Tips for Better Writing.
Build your professional network
Don't wait until you graduate to start making industry connections. Keep an eye out for relevant events to attend and consider joining a professional network such as the Canadian Public Relations Society or the International Association of Business Communicators. The student fee for joining these networks is low and they offer plenty of free or inexpensive events and professional development opportunities.
Start a blog
 Starting your own blog is a great way to start to establish yourself as a PR expert and to make connections. It's the perfect way to practice writing and showcase your skills. If the idea of starting your own blog is overwhelming, you can always just submit an article to Symmetry!
What goals are you setting for 2017? Let us know in the comments!