Four things I learned volunteering in a developing country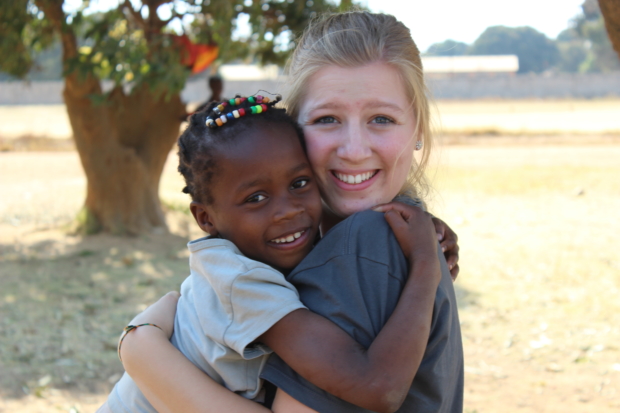 Lauren Goerz
It's early afternoon and the hot sun is beating down on me as I walk through a community in rural Kabwe, Zambia. I'm on my way to the home of a new friend, a fellow volunteer I've gotten to know over the last two weeks. I am travelling with Rock Church Ministries  to assist a small organization, Together in Action. We've have been helping their volunteers on home visits and running several day camps for children in surrounding villages. I enter my new friend's home, humbled by how I am treated. I went to Zambia to help encourage and support volunteers. I didn't expect, I'd be the honoured guest of a feast like dinner.
My experience travelling to Zambia, Africa, almost three years ago now, taught me a lot. Here are four ways Zambia changed me.
I became flexible and developed new skills.
When you volunteer, you are often required to work in a team. You may work with people you don't know, people from different cultures and of different ages. This can be challenging enough in your own back yard. To volunteer in a country other than your own can make things all the more challenging, and rewarding.
While in Zambia, I had to get use to the cultural beliefs, habits and daily routines of the people I was working with.  For example, some Zambian people aren't used to paying a lot of attention to the time, which was difficult for me to get used to.
There was also a language barrier which provided me with the opportunity to develop new non-verbal communication skills. I learned about teamwork, leadership and interpersonal communication.
I learned to make do.
Volunteer trips are often coordinated by, or partnered with, not-for-profit organizations. Before traveling abroad I never thought about the different challenges a not-for-profit in a developing country would face versus the not-for-profits at home.  At home comfy desk chairs, water coolers and office kitchens are viewed as essential details in a work environment. An organization working to make ends meet would see such things as luxuries and consider them a big deal to have.
I had experiences that I can take in my PR career.
I heard the best stories in Zambia from hard working people. Now I have my own tell. I was able to visit schools in rural communities and bring desperately needed school supplies. Things such as this will educate a community. I was able to see a corn mill and pig farm that my church's donations helped to build. This makes an entire community self-sustainable.  I will take these experiences into my public relations career, where I'll continue to build relationships, listen and tell stories.
I gained a greater appreciation for my life.
In Zambia, many of the people, families, organizations had to work with hardly anything. Their dedication and resourcefulness taught me how to value. I came home in complete awe of what I have. Even the simplest things now seem large, such as a building with proper electricity, or a house with many rooms and floors.
I had no idea making a difference in someone's life would also make a huge difference in mine. I encourage anyone who is able to volunteer in another culture. Here is a small list of organizations who are always looking for someone to add to the team:
You won't change the whole world in one trip. Volunteering doesn't make you a superhero, but an experience like this could not only make a difference in someone else's world, but yours too.