Thirty-one frightening flicks you haven't seen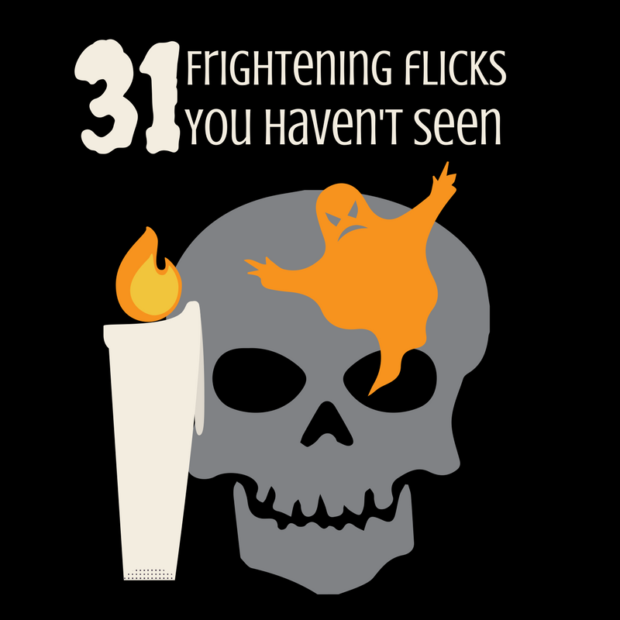 Emily Faulkner
Fall has arrived, and with it comes the most wonderful time of the year. With the start of every October you can find me on my couch, wide eyed, ingesting all the horror I can find. This may sound lazy to some, but as a self-proclaimed movie snob I know finding 31 horror movies worth watching isn't easy. So since I'm feeling festive, I've made a list of 31 movies for the horror buffs that are tired of the same old suggestions. If you've already seen The Conjuring, Carrie, and never need to see another Saw movie, try these fall frights. Here is my list of 31 not-so-well-known movies to indulge this October.
* = Find it on Netflix!
It is a misconception that horror is only meant to scare. If you'd rather have a laugh than a scream, these horror comedies may be for you.
What We Do in the Shadows* (2014) – A vampire mockumentary that'll make you wish your best friends were vamps.
Tucker & Dale Vs Evil* (2010) – Redneck miscommunication at its best.
 
Like gore? These films are killer…
Prevenge (2017) – Ever watch a pregnant lady go on a murder spree?
Shrew's Nest (2014) – It may be slow, but the burn is deep.
Alleluia (2014) – This one is red with envy.
The Loved ones (2009) – Another prom tale, but Lola is no Carrie. She'll stop at nothing to have the prom night of her dreams, including her prom king.
We are what we are* (2013) – A little more than your typical overbearing father.
It simply can't be an October list without some monster appearances.
Vampire
Midnight Son (2009) – Avoid red wine while watching this one.
Let Me in (2010) / Let the Right One In (2008) – Two films follow the same story line, and do it so well you must see both.
Witch
The Love Witch (2016) – A sultry 60s throwback with a pathologically sexy lead.
Zombie/Undead
Nina Forever (2016) – Three has never been more of a crowd. You'll see why.
Pontypool (2008) – A creative take on a classic zombie pandemic, and it's Canadian!
Creature
It Follows* (2014) – A tale of a sexually transmitted supernatural entity. You heard me!
The Host* (2006) – If you're already afraid of what lurks underwater, maybe don't watch this one?
The Descent (2005) – You'll be exhausted, physically and psychologically, after this one.
It Comes at Night (2017) – A subtle take on the post-apocalyptic horror genre.
Spring (2015) – Classic boy meets girl…or whatever she is?
Want Suspense? Be careful what you wish for.
Killing Ground (2017) – Creepy cinematic gold (32:10).
Get Out (2017) – Ranked Rotten Tomatoes number one horror of all time – so watch it.
Don't Breathe (2016) – A heist gone so wrong, even the viewer will hold their breath.
Green Room* (2016) – Punk band vs. neo-Nazi, need I say more?
Back Country* (2015) – The antagonist is a giant grizzly bear. Nuff' said.
In Fear (2014) – Described as "a home invasion that takes place in a car", In Fear is truly chilling.
Check out these supernatural flicks that slay.
We Are Still Here (2015) – The saying "home sweet home" has never been more inaccurate.
The Devil's Candy (2017) – Horror meets heavy metal meets a tattooed Ethan Embry and it's oh, so sweet.
The House of the Devil (2009) – 80s junkie or not, this throw back will have you in aw.
The Wailing (Goksung)* (2016) – Villagers begin dying after the arrival of a mysterious stranger – sounds
simple, but the plot is complex.
Babadook (2014) – Both terrifying and beautiful, Babadook tells the story of a single mother and her son.
Beware, these psychological Horrors could leave you feeling very unstable.
CREEP* (2015) – Titled very appropriately, Mark Duplass' performance will indeed give you chills.
Goodnight Mommy (2014) – Terrifying twins your thing? Give, this German drama/horror a try.
Even horror can get animated.
Coraline* (2009) – I've heard of a cute button nose, but eyes?
Grab your treats and get watching. I hope you're horrified!