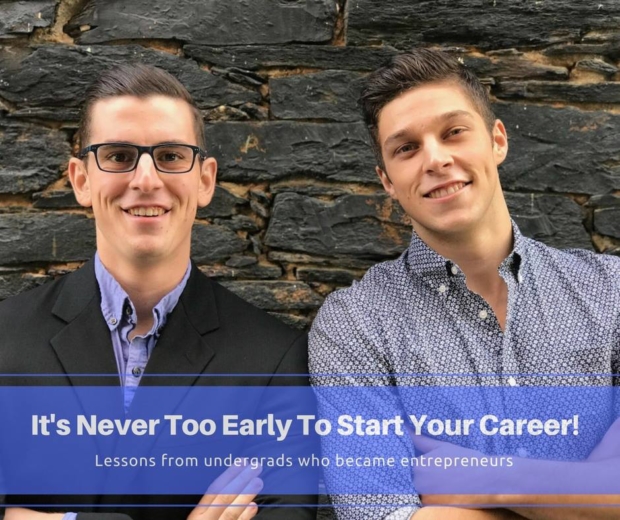 Emma Colson
In the third year of my PR degree, I find myself piling on pressure to be certain in my path after graduation. In my downtime, I often search through job websites looking for a position I see myself thriving in and truly loving – but most of these jobs expect three to five years of work experience. How realistic is that? It never crossed my mind to get this experience by opening my own business at 21, fresh out of a degree. Is that even an option? Could I even do that?
The answer is yes.
Meet Gabe Roy & Gab LeVert: current PR student and recent PR grad. These two have taken every opportunity the PR program provides and run with them – fast. They build Magnified PR from the ground up; a digital public relations company that specializes in social media management, SEO optimization and content creation to help brands get the right message to the right people.
If you're a go-getter, go get.
It's hard to relate to an established business professional when they're giving you advice. Often, it feels as though these tips aren't applicable in your current position and these goals are out of reach. We are more intrigued and inspired by the success of our peers and friends. For those of you who don't know Gab and Gabe, their energy, drive and positivity is contagious and their passion is evident in everything they do. Sitting down with these two not only inspired me, but also motivated me to share their story with you.
I learn best in lists – I find them to be engaging and helpful with keeping my organizational skills sharp. So fittingly, I created lists with the top straight-forward tips these two young entrepreneurs had to offer.
5 things you can take from the PR program to prepare yourself for post-grad:
Complete co-ops in various sectors (not-for-profit, agency, government, etc.)
Find out what makes you happy, what you excel at, and where your weaknesses are. Being introspective throughout your undergrad will help you find out what you want to do after you graduate.
Develop real relationships with your professors. It may seem inconsequential at first, but it'll pay off in the long run.
You will spend lots of time working with different people on projects. In the professional world, it is so important to be able to work with people effectively. This practice will pay off!
Have confidence. The program is designed in a way that you leave feeling confident in your abilities – the confidence to speak to your peers, express yourself through writing and ultimately to become a successful PR professional.
5 things you can do in the PR program to build your entrepreneurial mindset:
Try new things. Don't let yourself get too comfortable, constantly step outside of your comfort zone.
Take interesting electives – you won't know what you're interested in until you try. PR is a broad industry. Test out different classes, you'll learn something new from each class and each professor.
"You're only as good as the people you surround yourself with" is a cliché for a reason. Surround yourself with people who are smarter and more driven than you. Initially, it's intimidating, but you'll catch up.
Go to networking events, volunteer, and participate in the Learning Passport. Networking exposes you to new people and ideas that will make you think differently.
Explore your creative side. Draw or write – find what makes your creative mind tick. Start a podcast, this is perfect for any introverts or extrovert with lots to say.   Check out Gab and Gabe's podcast: Lost & Founders.
2 most important skills Gab and Gabe took from co-ops:
Intuition. Students are always given guidelines and templates to follow. It's another thing to do something that's never been done before, where there's nobody to tell you how to do it. At first, it was intimidating, but it's the most important skill I gained. – Gabe Roy
Networking skills. It seems like a simple concept, but becoming a good networker is an ongoing process. Having a concoction of different skills and competencies, while being both personable and memorable can be a delicate scale to balance – especially with strangers. In PR, it is key to be able to effectively develop and maintain professional relationships. My co-op terms gave me more than my fair share of practice, which has allowed me to become better at establishing contacts that have already proven to be very valuable in my young career. – Gab LeVert
If I took anything from my conversation with these two, it's that success isn't handed to you. However, if you work hard and think of the bigger picture, you can shape your own future. Most importantly, the way you utilize your time in this degree can shape your career to align with your interests and passions.
Follow these two on their crazy experience at Magnified PR.