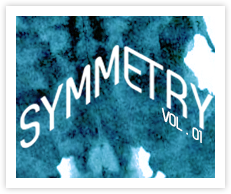 Welcome to Symmetry
Kelly Lynch // September 29, 2011
Welcome everyone to Symmetry, Mount Saint Vincent University's first ever entirely online publication for the Communications program.
Whew, that was a mouthful.
I hope you like what you see, because it's only going to get better from here. Melissa Noonan, Emily MacIsaac, Adam Sterling and I have spent the summer developing this project, and seeing it come to fruition is extremely rewarding. I'd like to thank all the students that have taken time out of their busy schedules to contribute to Symmetry–you are all talented, hard-working individuals and it has been wonderful working with you to get this off the ground.
Thank-you to Professor Barbara Emodi for encouraging me to take this on, Dr. Amy Thurlow for her support and enthusiasm, Professor Crystal Garrett and Professor Brent King for volunteering time to be our mentors, the Co-op Office for lending a hand (or ten), and to the rest of the Communications faculty for saying "Yes!"
We've started a project that will bring students and faculty together for a more engaged, collaborative environment. Everyone comes to the Mount for their own reasons. Yet, whatever you pursue at this university, I think it is safe to say we all come here to learn. I walk through the doors of Seton Academic Center knowing I'll leave at the end of the day with an expanded horizon.
Education is a constant realization of what I don't know, and I love that. There will always be something to strive for, and no one can put a cap on passion. Be passionate about learning, about figuring out what you don't know: constantly expand your horizons, and do it in collaboration with those in your academic environment.
Create. Communicate. Collaborate.
I could not have done this without the combined effort of everyone involved, and I don't mean just writing an article or creating a proposal. It's saying something inspiring in class, it's asking others how their day is going, it's walking through the doors of Seton with the resolve to accept the challenges your professors pose each day. It's being an active member of your community. You give a lot, you get a lot. That's how Symmetry works.
Whoever you are, whatever you do, you and your work matter, and you and your work will only improve if they're out in the world.
So, learn, and be passionate about it. Apply it. Be creative. When you write for Symmetry, understand that words are some of the most powerful tools human beings have; use them to express and develop your ideas. What better way to do it than with those that share a common goal?
This space is here for me to respond to questions, comments or concerns. Please feel free to send me your thoughts on anything we've published. I will be happy to discuss.
Thanks for reading, and I look forward to working with you.
Kelly Lynch