Airlines delivered poor communication for Christmas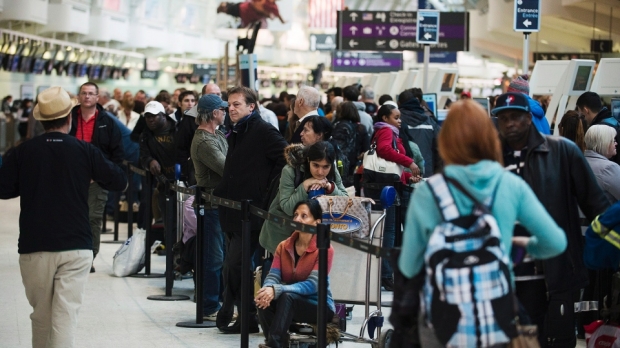 Alison Harris
During the holiday season airports are a gateway for students and families to arrive home to celebrate and relax. However, this season travelers' experiences were far from festive. Trips that were supposed to take hours lasted days. Boarding a plane was no guarantee that you'd take off and the chance that your luggage would arrive was slim. Frustrated passengers took to social media while national headlines called it a communications crisis. How could airlines have improved upon this customer service disaster? Let's break it down.
The Weather
 After the holidays as students and families were making their way home, freezing temperatures and snowstorms hit Eastern Canada. A call for total ground stop at the Toronto Pearson International on January 7 caused pile-ups across Canada and in the United States as planes waited to land. With hundreds of flight cancellations, countless lost bags and thousands of displaced customers, airlines were in the midst of a communications meltdown.
Customer and Airlines' Reactions
Prior to Christmas travelers were anxious but still in the holiday spirit. Airlines were able to maintain normal communication online for travel advisories.  Communication faltered as the New Year and new storm arrived. Hundreds of flights were delay or cancelled, one of the biggest airports in Canada shut down. Customers were angry and they were not afraid to let anyone know.
Facebook and Twitter became crowded with the voices of frustrated travelers complaining about service and lack of communication. Social media teams were slow with some comments only being responded to now, if at all. Negative reviews led Porter Airline to remove the review feature from their Facebook page.
When Pearson shutdown tensions escalated and the airport brought in extra police as an extra security measure. Stories of 37-hour waits in line began to surface online and nothing seemed to be improving.  Passengers were unaware of when flights would be rebooked and were unable to find answers.
Porter's reliability and image with consumers took a further hit  as many lost their baggage in the process of getting home. In some cases it took a week and many calls to the airline to receive the baggage. Some cases left people without their bags for up to a week and when they did arrive some were damaged or wet.
Recently, it appears that Porter and Air Canada have made amends with many of their customers either through flight vouchers, apology letters, or free Starbucks coffees. However, how could the airlines of saved themselves the grief of angry customers and negative commentary from the press?
What should airlines have done?
The companies should have been more prepared for the results of extreme winter weather and anticipated the power of social media. The airlines likely did have a crisis communications team in place but given the lack of communication, a strong plan was not.
Airlines needed stronger, consistent key messages when communicating with customers and the media. Showing more compassion for their customers may have led to more understanding travelers. Further, consistent messages are memorable and help eliminate confusion.
Airlines did have spokespeople they weren't active enough, only occasionally quoted in articles and interviewed on CBC Radio 1. The absence of spokespeople was not for a lack of competence but a lack of outreach from the airlines. In the future airlines should make better use of their trained spokespeople and create a stronger presence in the media.
Finally, airlines should, if they were not already, ensure that they had in place a program to monitor mentions of their company on social media and the web. It is important for airlines to not only know what their customers are saying but to also know who is saying it. Following interactions from passengers could have given better insight to the needs within the airport. Media monitoring helps better accommodate the needs of the customers.
To many passengers, the airlines fumbled this holiday season when it came to customer service. The airlines can learn how to better themselves after experiencing the backlash from customers and the media. Next year during the holidays airlines will hopefully have a better plan – and press.