Tim Dunne: Speaking for Canadians around the world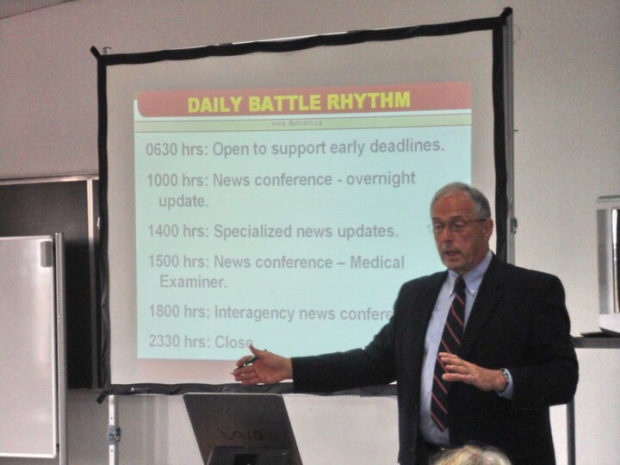 This inaugural edition of Symmetry's PROfiles series begins with a Mount professor who has experienced public relations from a unique perspective. Professor Tim Dunne was the voice of Canada's Armed Forces in many global hotspots. He has handled crises that, if handled improperly, did not mean the loss of profit, but the loss of life.
Tim Dunne served as a public affairs officer in the Canadian Armed Forces for 37 years, achieving the rank of major and serving Canada in several countries around the world. He started teaching public relations (PR) when time and his career allowed in 1981 and began at the Mount in 1991.
Through his work with NATO he has taught Western-style media relations to members of foreign militaries in order to pass on Canadian expertise in the field. His career spans the time when global balance of power was in question during the Cold War, to the years following the meltdown of the former Soviet Bloc states that led to some of the most bitter conflicts in recent history. At its heart, however, this is public relations on a grand scale with the same core challenges, opportunities and needs that any PR student will face.
When asked what important attribute had allowed him to be successful in PR, Mr. Dunne said, "Never fail to volunteer! Always raise your hand and be the one your boss goes to when a job comes up and they need someone reliable."  This saw Mr. Dunne go from a communications technician to eventually becoming the chief of media operations for NATO in southern Italy.
One of the main challenges that he faced is very familiar to PR practitioners in all industries – mutual distrust between his organization and the press. This is precisely what PR practitioners seek to alleviate. While working in the post-Cold War German Press Information Center, he had to overcome the German officer corps' reluctance to trust the press. Plus, in a military-specific dilemma, he was in charge of officers with a higher rank than his own, and getting them to listen took some extra doing.
When asked what one never truly understands about PR until they are working in the industry, he said, "One has to marry many different interests and initiatives to get the job done. There are many facets and approaches as well as a high degree of technical detail associated with the job."
Mr.Dunne praised the "experienced practitioners of public relations" teaching for the MSVU PR program giving the students specific skills and perspectives that provide a point of departure for their careers. He hopes students leave his classes with the ability to understand that you cannot take everything you encounter in this field at face value. "Everyone speaks from a point of their own interest; take that, do your own research, and form your own opinion on the situation."
Looking back over his storied career to date, Mr.Dunne finds his teaching and writing engagements the most rewarding, specifically passing on lessons learned to the next generation. At the end of the Cold War, Mr. Dunne was asked what he would do since 'peace is breaking out.' He said, "since that question, the Canadian government and military has been active in hotspots all over the world in a variety of situations and levels of involvement. Everything from Sarajevo to Rwanda, Somalia, Afghanistan, and now Ukraine and the fight against ISIS requires public affairs officers to explain the role of the tax-funded military to Canadians."
Mr. Dunne sees the future of public affairs as being hindered by a more tight-lipped government and reluctance to be open with their publics. However, in this environment a well-trained public relations officer can make an important difference.
For MSVU students with civilian interests, the path lies with the public service commission. Once registered, one looks for a position with the Department of National Defence. For those interested in the challenge of the Public Affairs Officer role, the first steps are through the door of a Canadian Forces Recruitment Centre where all your questions can be answered.
Gregory Cutten
(MSVU PR 2016 – Second Lieutenant, First Battalion, The Nova Scotia Highlanders)