Wendy Forsyth: If you're green, you're growing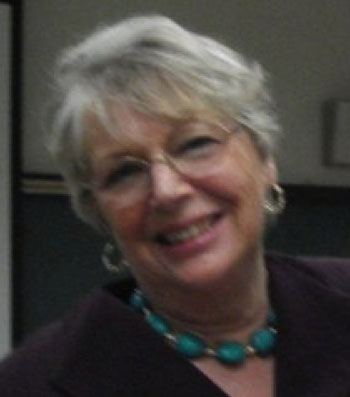 Karlea Lewis
"There is nothing in this life like perseverance and not giving up," says Wendy Forsyth, the newest full-time Communications faculty member at Mount Saint Vincent University (MSVU). After enrolling at MSVU as a mature student, Wendy went on to earn a Bachelor of Arts degree (BA), a Masters degree and a Ph.D.
Growing up, Wendy went to boarding school in the south of England and admits she was someone to whom "the school system wasn't very kind." Therefore, she never dreamed that she would complete a university degree. Wendy credits the supportive people she met during her time at MSVU for helping her continue with a post-secondary education. Earning her BA was a "huge stepping stone" in life and ultimately one of her greatest accomplishments.
Wendy acknowledges her grandmother as a life-long influence and inspiration. Her grandmother left home to become a nurse in France during World War I, "a time when women in her class didn't work" says Wendy. Then, during the Great Depression, she ran a canteen for the unemployed. During World War II she drove an ambulance at night during the Blitz in London. Learning from her grandmother's example, Wendy persevered to pursue her passion for learning and for teaching others.
Married with two children, Wendy started at MSVU with no intention of earning a degree. However, after several classes, she decided to enroll as a mature student and graduated with a Bachelor of Home Economics in Clothing and Textiles. She went on to complete her Master of Arts Degree in Education from MSVU. Next she earned a Certificate of Advanced Facilitation Skills in Creative Problem Solving from Creative Education Foundation, State University of New York. She then went to Concordia University to pursue a Ph.D. in Educational Technology. This comprehensive education combined with her extensive experience shaped Wendy's creative teaching style.
A lifelong learner, Wendy has taught in many areas of study. After completing her Ph.D. Wendy returned to MSVU and taught part-time in the family studies and gerontology department, the business and tourism department, the graduate studies of education department and the communications department. Wendy also taught at Saint Mary's University, McGill University (Distance Education), the now Dalhousie University Agricultural Campus and for Dartmouth Continuing Education.
For over twenty years, Wendy and her husband have owned Zibenza Consultants. Working with various organizations and providing one-on-one coaching has allowed her to do "just about everything" in the communications sphere. Wendy believes drawing on this extensive experience has enriched her knowledge of how to teach.
Wendy says, "I don't really think you can teach anything, you can only facilitate learning. You can just watch the students grow and see what they can do with their knowledge." Like her students, Wendy says she too is always learning and always trying to do better. As she says, "If you're green you're growing, if you're ripe you're dying. . . . it doesn't matter how old you are, I think one of the most exciting things about getting on in life is just realizing how much you don't know."