Ready to represent? Become a CPRS-NS student representative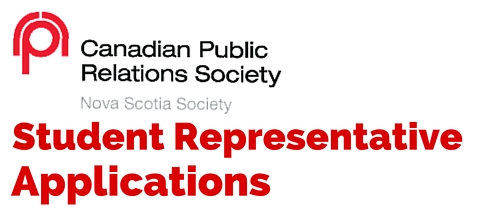 Are you ready to represent?
The Canadian Public Relations Society's Nova Scotia chapter (CPRS-NS) is looking for an enthusiastic Mount Saint Vincent University PR student to serve as a 2015-2016 student representative on the board of directors.
The position is open to all undergraduate and graduate public relations and communications students at MSVU.
About the position
The student representative is expected to work collaboratively with the returning MSVU student representative and act as liaisons between the board and students in the MSVU PR program.
Student representatives will work with the CPRS-NS education portfolio chair to plan events and professional development opportunities for PR students in Nova Scotia. The student representative may be asked to join CPRS-NS committees to work on special projects.
Qualifications
Applicants must be:
A MSVU PR or communications undergraduate or graduate student.
A CPRS-NS student member, or willing to become a member.
Able to attend CPRS-NS board meetings scheduled for the first Monday of each month (with the exception of November when the meeting will take place on November 9).
Display enthusiasm and passion for public relations.
How to apply
To apply for the student representative position please send a 300-500 word expression of interest and your resume to symmetryeditor@gmail.com.
In the expression of interest please include:
Why you're interested in the position.
How you plan to effectively work as a liaison between the CPRS and MSVU PR students.
Applications are due Friday, October 16 by 11:00 p.m. Representatives from Symmetry, the PR and Communications Society and the current CPRS-NS representative will select the student representative. The selected student will be contacted by Monday, October 19. 
This is an excellent opportunity to gain board experience, make industry contacts and contribute to the PR profession. If you have any questions please contact Emma Robertson.