What we're reading: February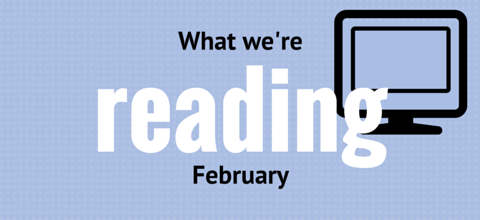 Symmetry's editorial team is trying something new this year by sharing our favourite articles each month. First, we look at what Drew has been reading.
—
With "read more!" as my main new year's resolution I was excited to start this read and share series. As someone who admittedly does not stray too far from the front page of the newspaper each morning, "What We're Reading" has provided me the opportunity to explore the world of PR blogging.
Here are highlights from what I read this month:
On writing: Hemingway's Advice on Writing, Ambition, the Art of Revision, and His Reading List of Essential Books for Aspiring Writers
The foundation of any great communicator begins with the ability to write clear, concise, confident and original content. This article is full of tips on becoming a successful writer from the great Ernest Hemingway. Bonus: If you're looking for book recommendations for reading week vacation, this article includes Hemingway's 16 must-reads.
On content marketing: 5 Steps to Unlocking Successful User-Generated Content
User-generated content is a marketing technique widely used by brands all over the world. It can be hugely successful because of our inherent need to share stories, perspectives and expertise. This article takes a comprehensive and step-by-step look at creating a successful content marketing campaign.
On "piggybacking": 15 Brands React to Groundhog Phil's Early Spring Prediction
Referred to as "piggybacking" or "newsjacking", this article looks at brands that used Groundhog Day in their marketing. This marketing trend emphasizes the importance of creativity and timeliness when it comes to creating relevant content.
On public relations: What is Public Relations These Days?
If you're like me, you probably face this question at least once a week from family and friends: "what IS public relations?" or "what are you going to BE when you graduate?" This article looks at the PRSA's definition of public relations while working through all the roles and responsibilities that a public relations practitioner may take on.