Trouble securing your first co-op position? You are not alone!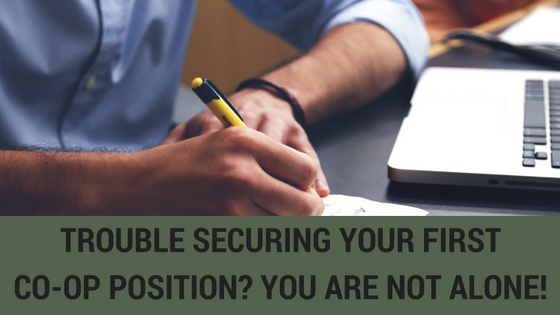 Maxime Julien
Many undergraduate students pursue co-op opportunities or internships to gain practical experience and a competitive edge upon graduation. For my bachelor of public relations degree I have done two co-op placements and I am currently completing my third and final co-op with Public Services and Procurement Canada.
In 2014, I came to study at Mount Saint Vincent University due to their reputation in public relations, but mostly because of the co-op route. I am the type of student who needs a practical approach to fully understand the theory. This degree was the perfect match for me because I would learn and work alongside professionals while earning credit. However, despite my enthusiasm, securing my first co-op work term wasn't easy.
At first I thought that the co-op placement consisted of the co-op office matching students with employers. It came as quite a surprise when I found out that I had to undergo a competitive job application and interview process. This was stressful because as an undergrad I didn't have much relevant experience yet. For those of you who have been in my shoes at some point, you know how stressful this situation can be.
I started to lose my confidence after a while because of the low rate of interview offers. Then, even after multiple interviews, I was still nowhere close to getting a job. I asked for feedback about my performance to know what went wrong, but there were just compliments. I was at a loss trying to understand the reason behind my failure to secure a co-op position.
Four months went by and nothing happened, making me afraid I would be the only one of my classmates left without a position for the summer. Would I have to defer? If so, would I have to delay my graduation date?
I reached out to the co-op office to increase my chances by doing mock interviews. I also did my own research about interview dos and don'ts. Ultimately, I think that the combination of mock interviews and my own research is what helped me secure a placement.
Finally, after countless interviews and more than 20 cover letters, I secured a co-op position as a marketing, public relations and sales support coordinator at Local Source Market, just three days before the closing date. I felt as if I had just won the lottery. I ended up having one of the best positions of the summer and I learned a lot in a great working atmosphere.
My experience taught me that landing a co-op position can be a real challenge if you have little experience. It led me to doubt my interviewing skills, which I have never encountered before. Confidence is a tricky thing because it can come crumbling down at any time, which leaves you wondering what is wrong with yourself. But in the end I asked for help and developed my own set of tools. As a result I went from being hired in the last round of job postings to being selected in the first round of job postings for my second and third co-op terms.
If you are in the same situation that I was in, here are some tips:
The first thing you should do is to review the structure and content of your resume with your co-op advisor. Spend some time researching resume writing and how to appeal to an employer.
Based on my research I created a format for my cover letters and reorganized my resume. I cut out long sentences and included specific categories such as: summary of skills, achievements, and job titles with a description. Each job postings will require specific skills and you need to be clear in your cover letter about how you meet the job requirements.
Use key words for both cover letters and resumes to avoid being lengthy because they skim through these documents. Keep in mind that they might be screening more than 20 applicants and that being specific and concise is key. Also, don't forget to proof-read everything before submitting.
The second step is the interview. At this point you are probably feeling butterflies in your stomach because you are halfway there. Make sure to research the organization before the interview and prepare additional questions to ask at the end. Employers appreciate when candidates come up with questions about the company and the role. It is hard to predict the questions that will be asked, but there are some common ones that you can practice answering.
Each interview gives you more experience and brings you closer to understanding the dos and don'ts of the job application process. Having been through this process three times I can assure you that it gets easier. Finding and obtaining a co-op that you like is not impossible even though it may seem that way.
Don't forget to be yourself and hang in there because you are not alone!