Symmetry/PRCS Contest: MSVU Talks to Inspire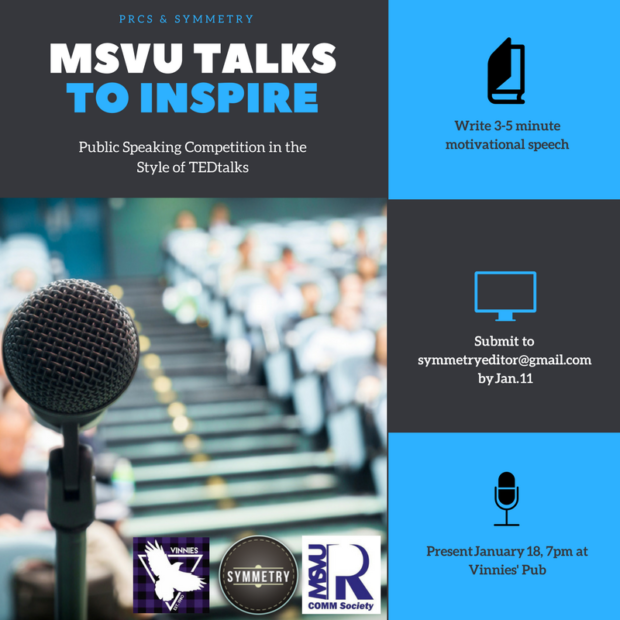 Have some time off between baking treats and wrapping gifts this Christmas break? Consider writing a short TED Talk for Symmetry and PRCS's upcoming competition, MSVU Talks to Inspire! We're asking you and deliver a 3-5 minute speech on any topic you think will inspire others on January 18th at Vinnie's Pub. Speeches can be accompanied by a slideshow or any other visual aids you feel will support your talk.
All submissions must be in no later than January 11th. Have a great idea, but not sure how to deliver it? No problem – submit your talk and one of the Symmetry editors will help bring your vision to life.
The contest winner will receive a $50 gift certificate to Atlantic Superstore.
Not interested in giving a talk? Come out to support your friends!
Details:
Contest will be held at Vinnie's Pub on January 18th at 7:00pm. Invite your friends!
Email your 3-5 minute speech to symmetryeditor@gmail.com by January 11 th to compete.
Judges to be announced when confirmed.
Criteria:
Content – Is the idea thoroughly developed? Are credible claims with clear evidence being presented? Is this information or perspective enlightening? Is it relevant or interesting to the audience?
Style – Is the presenter using clear, precise language? Are they invested in the topic? Did they take the appropriate approach to the topic?
Delivery – Is the talk being delivered in a natural way? Is the presenter utilizing space and body language? Does the presenter have a clear sense of ownership over information/confidence? Do they make eye contact? Do they engage the audience?
NOTE: While visual aids are encouraged to enhance talks, they and not mandatory and will not be included in the judging criteria.
We look forward to your submissions!
Happy Holidays and Cheers to a New Year!
The Symmetry Team